Extract from "the Imperial Ottoman Bank in Salonica" :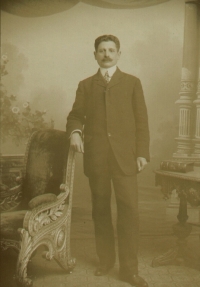 "Also Austrian, François came to work at the Bank in june 1882, when he was hired provisionally as an employee of the accounting department. From his personal record n°19, we learn that in 1883 he was single and that he spoke french, italian, greek and spanish. Despite his Austrian citizenship, he did not speak german. He is characterized as a "good employee" and "trustworthy" with "sufficient" knowledge of his job. In june 1883 he was "hired indefinitely". When he joined the Bank for the trial period, he was paid 48 T.P (turkish pounds) and after successive salary increases he reached a salary of 114 T.P in the year 1888. On 3 occasions, he also received a small bonus. We also learn that he continued to be an employee at the same accounting department until 1904, when he was transfered to Monastir (Bitola) as a chief accountant. He returned to Salonica in june 1906 as branch chief accountant. 2 months later, in august 1906, he was promoted to manager in the Dedeagatch (Alexandroupolis) branch. He was pensioned off in november 1908, at the age of 54."
François was born in 1854 in Thessaloniki, son of Michel Astolfi and Henriette Sabine Gliubich, so that he was first cousin with Antoine Saridaki, who also was working for the Ottoman Bank at the same time.
He maried Louise Peche and they had at least 3 children : Michel (1886), Emile (1889) and Marie Edmée (1892)
A few years later, in 1895, we find his trace in the parish registers, as godfather for the baptism of Henri Saridaki, one of the Antoine's sons.