The Duma House (Casa Duma) has been the residence and the seat of the commercial activity of some members of the families Fesch, Wessely and Schwachhofer during the 19th Century.
It was an historical building, located at the n. 816 of the Città Nuova, in Trieste. It was a neoclassic house, built in the 18th century by a rich merchant, Ignazio Gadolla. The square in front of the house was originally named Piazza Gadolla (then Piazza Nuova, today Piazza della Repubblica). Later on, still in the 18th century, the house belonged to another merchant, a certain Duma, hence the name with which it was then known.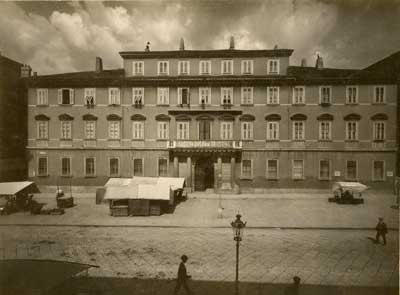 In 1790 Antonio Cassis Pharaon, the "Arabic Cresus" was living here. Jerome Bonaparte, brother of Napoleon and former king of Westfalia bought this house in 1815 to host the 54 people of his suite. He re-sold it to his sister Elisa, grand-duchesse of Tuscany in 1818. Another sister of Napoleon, Carolina Murat, former queen of Naples, lived here for some months in the years 1824-5 before settling in the beautiful Villa Murat, in another area of Trieste.
The house was then bought in 1826 by Carl Christian Schwachhofer, a rich merchant who had moved to Trieste from Germany in 1798 together with the French financier Joseph Labrosse, Count of Pontgibaud. Three years later, in 1829 the house was restructured under the supervision of the architect Antonio Buttazzoni, one of the most important architects of his times, who added a third storey with seven windows and a big entrance sided by four doric columns.
After his settlement in Trieste, Schwachhofer and his partner Pontgibaud were very near to the merchant Giuseppe Wessely, a personality in the trade world in Trieste. He was one of the six deputies at the Stock Exchange and, together with the Schwachhofers, he was among the 16 tradesmen who in 1821 carried the spoils the Countess of Pontgibaud in the funeral cortège through the city.
In 1833 Giuseppe Wessely moves to the restructured Casa Duma, together with his new partner, Gustav Adolf Fesch, to establish the firm "Wessely & Fesch", a wholesale enterprise of colonal goods. The same year, the oldest daughter of Giuseppe, Clarissa Wessely marries Gustav Adolf Fesch. Nine years later, in 1842, Adolfo Schwachhofer marries Marietta Guglielmina, the joungest daughter of Giuseppe Wessely.
On their marriage records the address of the new couple was ... Città Nuova n. 816, again Casa Duma. They established at the second floor.
Casa Duma was demolished at the beginning of the 19th century. At its place a bigger palace was buit to host the seat of the Commercial Bank (the Banca Commerciale Triestina, later on Banca Commerciale Italiana, today Banca Intesa).
See how the "Piazza Nuova" became "Piazza della Repubblica": everything changed ... with the exception of the house in the center of the picture.