Ferdinando Wessely was born in Trieste in 1821 (year of the Greek revolution against the Ottomans) from Giuseppe and Elena Vianello. Giovanni seems to be born in Trieste as well. We found a mention about him in the city archives dating 1834 but without further details about his parents.
Ferdinando is the fourth child of the couple and is the younger brother of Clarissa (see topic).
We know nothing about his triestino life. We find his name for the first time in 1842 (he is 21 years old) as godfather at the baptism of Filomena Vianello in Salonica.
Why in Salonica ? We know by the testament of his father Giuseppe that he "followed his cousin Giovanni in Salonica" to be his partner in his trading business. Unfortunately we did not find any evidence of this relation nor we ascertained the presence of a brother of Giuseppe. Actually we can only suppose that Giuseppe had a brother established in Salonica, and this brother had a son named Giovanni (hence "cousin" of Ferdinando).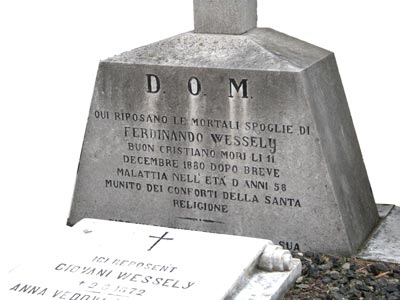 There are many traces of Ferdinando and Giovanni in Salonica, where they were in business with the Vianellos, a wealthy merchant family of Venetian origin established there (see topic).
The Wesselys and the Vianellos had tight business relationships and (at least) two marriages along the decades. One of them was between Giuseppe Wessely and Elena Vianello (1813) and the other between Anna Vianello and Giovanni Wessely (around 1830 ?). We find the signatures of various members of both families on many acts (baptisms and marriages) at the catholic parish church of Salonica.
Whereas the triestino branch of the Wesselys died out after only one generation (Enrico, see topic), they gave origin to many descendants in Salonica. To our knowledge there may still be a living generation there, after the "greeklyzation" of the name into Βέσελη.
Giovanni and Ferdinando both died in Salonica, in 1872 and 1880 respectively and rest together in the family grave at the Catholic cemetery.