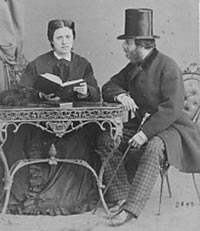 Second son of Gustav Adolf and Clarissa Wessely, Emil Eduard Fesch is born in Trieste in 1836.
He gets his education at first in Trieste, than in Geneva, Switzerland (at the Pensionat Briquet in Planpalais and at the Tranchées). For his studies he travels between 1857 and 1859 to Northern Germany, Belgium, Holland and England.
In 1853 he is 17 years old and at the death of his father he inherits the partnership in the firm "Wessely & Fesch" together with his grandfather Giuseppe Wessely.
In 1857, aged only 21 he gets engaged with Adelheid (Malvina) Meticke, whom he marries in Trieste three years later. Malvina is four years younger than Emil. She is the daughter of Ernst Meticke and Caterina Gopcevich, a very rich and influent merchant and shipowner family of Serbian origin. See the interesting participation issued on the occasion.
They give birth to two sons:
Emil "Milosch" (see topic) and
Alfred
One year later his grandfather Giuseppe Wessely dies and his place in the firm is taken by the uncle Enrico Wessely. The business is however turning bad and on 28th February 1865 the "Wessely & Fesch" stops the payments and goes to liquidation.
After his stay in Trieste, Emil moves to Budapest and finally in Steinbrück (Styria, today Zidani Most, Slovenia), managing another ... family firm, the "Steinbrücker Fabrik". Moreover, he becomes member of the local city council of Lack, district of Tüffer (today Lašco, seat of a famous Slovenian beer factory). We know nothing (so far) about this Steinbrücker Fabrik but that it is sold in 1885, when Emil is back to Trieste.
The Trieste city annual almanac in its issues of 1896 and 1897 mentions him as "industry manager", living in via Ghega 10, 1st floor (the house is still standing, not far from the railway station).
On the 14th April 1897 his wife Malvina dies of pneumonia during a Winter stay in Vienna. He retires then to Italy, in Cona (south west of Venice) in the contryside estate of Monsole together with his son Alfred (bachelor and Navy officer in the K.u.K. Kriegsmarine).
He dies there in 1904 but is buried in Trieste, in the Evangelic cemetery.
Emil was very fond in genealogy. He is the author of a ponderous family historical research, the Fesch "Familien Chronik", dated 1901 and possibly written during his retirement period in Monsole.