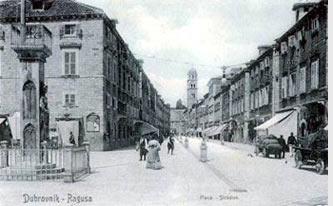 Antonio Gliubich, original of Ragusa, was born in Salonica around 1760. He becomes partner of Giovanni Vianello in a trading firm. In 1789 (the year of the French Revolution) he purchases from the Turcs a young slave four years old, named Giovannachi (Γιοβανάκι, or little John) said Berrenstatt. Giovannachi will join the Abbott trade firm to learn the office job and Barthélémy Edouard Abbott will save in the company the1000 "piastres" bound to the young slave by Antonio.
In 1790 Antonio marries Elizabeth Abbott, daughter of Jasper Abbott and Kyriaki Athanassis. Besides two childrens dead at early age, Gaspard and Anna, the couple will give birth to Pierre called Petracchi (Πετράκι, little Peter) in 1796.
Antonio dies very young in 1798, in Urendjick or Rendjicki, near Salonica, a Summer suburb for the rich tradesmen of Salonica.
Pietro "Petracchi" was left orphan of father at the age of two. His mother marries again very quickly with a French merchant, Philibert Fouquier. Before his death Antonio Gliubich had named Barthélémy Edouard Abbott and Giovanni Vianello as testamentary executors for the earthly affairs and the abbot Carapelli, parish priest of the catholic church, for the religious education (Elizabeth Abbott was orthodox).
Pietro is sent to Paris to the lycée Louis le Grand where he studies oriental languages between 1804 and 1807. Back to Salonica he works in the trading firm of his step-father and in 1810 he marries Marie Canella Abbott, his aunt "à la mode de Bretagne".
He is on the list of the French protégés but none of the French consuls who followed managed to let him obtain the French nationality. He is known as an "Illyrian with a fortune". In 1830 he is drogman at the French Consulate. In 1839, following the big fire that destroyed a part of the city including the French Consulate he rents a house of his ownership to serve as provisional French consulate.
Together with his wife he had at least six daughters:
Fanni (Epiphania) who marries Emmanuel Saridakis,
Adélaïde,
Henriette-Sabine who marries Michel Astolfi,
Elisa who marries Pio Terenzio,
Caroline
Sophie
Pierre dies in Salonica in 1870.