In the last quarter of the 19th century a club in Salonique was founded. It reflected the international character of the city. The members were bankers, merchants, landowners, officials, diplomats, industrialists, doctors, lawyers, etc. who formed the ruling class of the city.
The medley of peoples that existed in the city determined the character of the around 200 members. They were Jews, Turks, Greeks, Levantines-Catholics, Armenians, Central European, Slavic, etc.
The name of the club was "LE CERCLE DE SALONIQUE". Among them some of our ancestors:
ABBOTT Alfred: English landowner. Family relative Gliubich-Saridaki. Gliubich Antoine married Elizabeth Abbott and Gliubich Pierre married Marie-Canella Abbott whose daughter Fanny Gliubich married Emmanuel Saridakis. Cousins : Julius and Pierre Saridaki (the first players of F.C.Hercules).
ALLATINI: Jewish bankers, industrialists, landowners. The old pottery ALLATINI was a contractor Julius Saridaki who married the daughter of Pietro Neri, Allatini family friend and director of the pottery.
ASLAN: Armenians tobacco manufacturers. Next to the house ASLAN the eponymous stream was the residence of merchant Jean Saridaki. He had the children Julius, Pierre, Albert and Hugo.
D'ANDRIA Edward: Romanian diplomat. He married Marie Saridaki, sister of Jean and Antoine Saridaki.
DOBROWOLSKI Edmond & Joseph.: Poland negociants. Antoine Saridaki married their sister Adele Dobrowolski
SARIDAKI Antoine: Levantine-Catholic. Senior official in the Ottoman Bank
SCIAKI: Jew. Leon Sciaki (who wrote: FAREWELL TO SALONICA-CITY AT THE CROSSROADS) was friend and schoolmate with Albert Saridaki.
WESSELY Joseph: Austrian merchant. He married Elena Vianello daughter of Giovanni Vianello wealthy merchant from Venice.
The seat of the "Cercle de Salonique"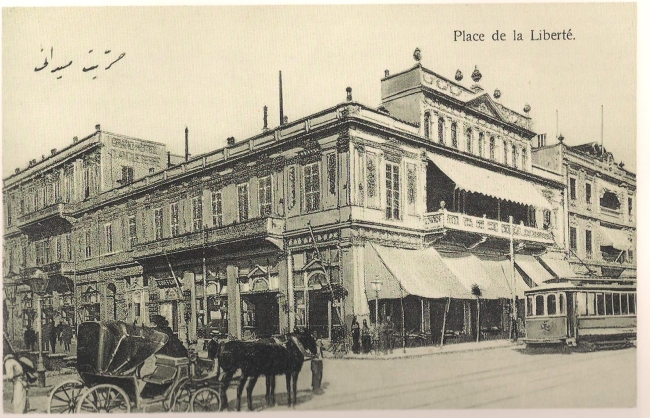 See the complete list of the members.