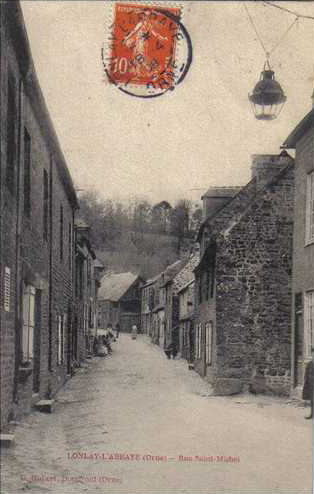 As of today, the first known Lhomer appears in the Role des Tailles of 1640 in the parish church of Lonlay L'abbaye.
In Normandy the fiscal age was set at 20 so we may deduct that it existed a Lhomer family in the Census since that date and that the chief was born at least around 1620. However we haven't been able to identify the christian name of this taxpayer.
Not all related mentions have so far been decrypted. Comparing with the list of his unfortunate fellows we deduct that he was "taillé aux droits" whereas most of the other people of this list were "taillé aux droits et biens". The word following the surname is maybe an abbreviation of the word "bourgeois". As a matter of facts it appears many times in the list.
The initial capital preceding the surname which will hopefully identify him may be either a D... or maybe a P

In the parish acts we found that 1708 was the year of the death of Pierre, designated as "bourgeois" of Lonlay l'Abbaye. We ignore the name of his wife.
He dies in August and is buried in the Saint Michel chapel. It seems that this chapel that was nearby the cemetery with the same name was also demolished.