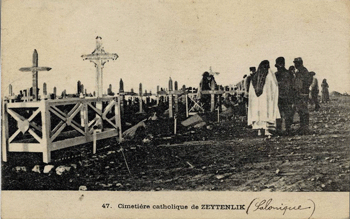 St Vincent de Paul is a tiny graveyard side by side to the much more known military cemetery of Zeitenlick, north-west of Salonica. To ge there, you must really know were it is ! This cemetery do not seem to be very popular among today's citizens of Salonica ... which however makes sense, as the catholics are just a 0.5% of the local population. It is square, hedged by gratings and whith an own entrance. It hosts (or hosted) about 300 graves of catholic families who lived in the 18th century (e.g the Choch one dates to 1775 but it is not the oldest). Many tombs have collapsed or are about to. Of course time passes by and continues its job. It is sometimes dangerous to access some private chapels, such as the one of the Charnaud family.
There are also some engraved tombstones which have been brought here before the distruction of the jewish cemetery of Kalamaria, possibly by families still living there in those times. This is the case of the Vianello family, although catholic and beforehand buried at Kalamaria
It is rather sad to find there our ancestors almost abandoned, yet very touching. Theòdoros, the custodian, promised to take care of them.
This visit allowed us to collect a number of missing dates and to better understand the links among various families still not completely clear to us.
more links:
http://www.levantineheritage.com/charnaudtomb.htm
https://www.lifo.gr/articles/almanac/305420/sti-thessaloniki-ena-tafiko-mnimeio-katadikasmeno-na-katastrafei